Before there was an opening there needed to be an opening for an opening to occur.
Doesn't that sound like some BS? Well it is. But don't worry it's all BS. It's just a story, after all. Another way to consider what I said above is: "When the student is ready, the teacher will appear." Let's say the student wasn't ready. The student may have been ready to find out that they could be a student.
There are several options to choose from, and maybe it was all of them – I may have required several concurrent openings to have an opening occur from the depths of despair that I was (in). There was a book I picked up and read, maybe even two. There was the wild adventure I went on (with my Mom – that's what made it wild). There was the declaration I made. There was the charismatic Catholic event that I went to. It may have just been the resilience I mentioned in the last post…that being the youngest and my unrelenting obsession with winning the game – no matter what the game.
Going into detail on each of these phenomenal items may or may not occur in the flow of this story…after all, I'd hate to bore my readers. But credit must be given that it could have been any of those "events" or all of them together or none of them at all that ultimately created an opening for an opening to occur.
Just prior to that, each of the possible openings above, there was the opening that seemed to be the not opening. The closing. The slammed phone. It may be that the closing WAS the opening and it began with somebody saying something and standing for something and putting their a$$ on the line, so to speak. It was weird.
My father died without ever knowing this bit of knowing. My mother still doesn't know it. In both cases it's "that I know of". There is no prescribed way to come upon this piece of knowing that this story is about. I've found other instances of it being known, come across in other ways. Knowing something, a currency which I deal in. What is it to know. It's been said that some things you can only know by experiencing them for yourself. Mom and Dad may have come across this bit of knowing. If they had, they didn't tip me off. Or I wasn't listening (a habit of mine).
However, that is what this story is about if you recall. Knowing. A bit of knowing some thing. What is it to know? How do we know? Why do we know? Do we really even know what we know? We like to act like we know…I know I do. I know nothing. I was lucky to find that out…especially at such an early age.
That's why I'm telling this story.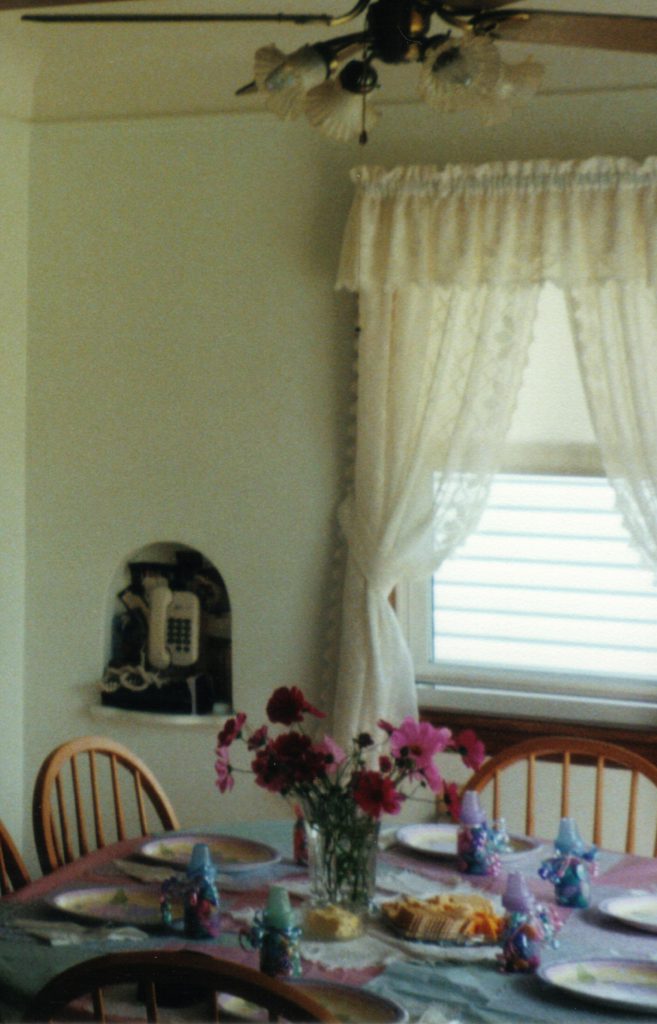 I brought up my father and mother…they were there when the calls started coming. They likely assisted me in forming what I knew about the calls. The calls were rather alarming…they occurred that way. They were certainly different, and new and they occurred as alarming. Threatening. What were they threatening? They threatened what I liked to act like I knew. They threatened the "fabric of who I'd constructed myself to be". Plus they were just unbelievable.
Note: An aside, outside of the story. One of the issues I've come across in my various attempts at being completely vulnerable and authentic in writing is the impact it has on others. As most of these tales involve others in my periphery, and others may not be as willing to be as vulnerable and authentic as I – and/or I may have to reveal more than I might reveal about my thinking various thoughts about people in my periphery – it makes for a challenge. Secret keeping? It's something we do. Or it's something I do at least. But they're not really secrets, they're just things that we wouldn't normally say. Could offend, could reveal, could hurt, etc. So I balance sometimes – is this authentic? I don't know (I don't know anything, really). It may be that it's part of the question of what is it to be authentic? What is it to be authentic and vulnerable? Who knows. :Note end
With me being the "youngest" as each of my older siblings moved away I developed certain resentments toward them for "leaving me". Just another layer on top of "You don't care about me. You don't even love me. I'll show you." My eldest sister was a different sort of mixture of that statement and being so much older that she didn't occur very much for me in my existence. Similar to the way my 7 year old son doesn't even recall being in Venice 3 years ago…I think there are a lot of things that just don't stick. I didn't recall having much resentment toward her and the relationship (for me) wasn't developed enough that it occurred to me as mattering much. I had this experience of older sister who is living out of state and not in my reality all that much and this concept of older sister who is my sister and I go visit her once in a while so of course she cares about me because, well, she's my sister. I had another sister as point of reference and I had a fairly robust experience that she cares about me – so relationally I could conceptualize the same thing could be with this older sister, if only she were around some.
Make sense?
Well out of nowhere and rather suddenly my eldest sister is calling me, wanting to talk to me, telling me that she cares about me and loves me. She's doing the same thing with my parents. It was a little abrupt. I have no recollection of what we talked about during these phone conversations. I likely wasn't listening very intently as the calls themselves were likely just an interruption into whatever it was I was doing (like trying to figure out why she left, and how to buy that sweet in-dash but removable (so nobody could steal it) car stereo with CD player (a relatively new invention at the time)). Anyway, it was kind of like telling my 7 year old son to come and eat dinner while he's playing whatever video game he is playing as dinner time approaches. Of course, I was 18 at the time, so you know…uh, yeah same thing really.
Not to mention, that in my house growing up in the 70's and 80's in a middle class, blue collar, undeclared slightly alcoholism fueled dysfunctional utopia-like family talking about loving each other wasn't really something that happened. You just sort of knew, or were supposed to know it. In fact, talking about it almost seemed to make it a little disingenuous. That was the experience of it – you just knew (or assumed that everybody knew you knew and assumed that everybody knew it about you too) and if they didn't well then you'd never really know but you'd just have to hope for the best or not. But talking about it, over the phone…long distance? Do you know how much those minutes were costing?
"Yeah, I gotta go." Then, this strange thing occurred. Rather than being a reaction to "Yeah, I gotta go" there was this really, really weird empty void that "Yeah, I gotta go" fell into. It sort of landed somewhere, but there was no response to it. No reaction to it. No anything really…other than a sort of reflection of it. In fact, many of the things that I think I said sort of went into this void. It was almost like dropping a penny into a well. Maybe that was the opening? If it was, it closed really soon. In this void where what I said went, rather than hearing the reaction come back to me I heard (though I couldn't really hear it yet) all this chatter revving up in "my head". All these thoughts about my sister, and why is she calling and she doesn't really love me and this is bull$hit and who the f does she think she is saying this stuff to me she sounds crazy and how the he!! can I afford that and why would I want to and on and on and on and on.
Very little (none?) of it had anything to do with what was happening.
I was getting rather "worked up". Over here. Like I said, something was being threatened. I was backed into a corner that I didn't even know existed. And I was responding the way somebody responds when they're backed into a corner. Guns were blazing. That void that things I said were being dropped into…that had to go. Soon, I said something that got some "expected response". Maybe tears, or confusion. Something, anything. Some response.
Then, I had my first ever encounter with the experience of coaching.
Now, coaching is a well known and common business term today…it's not even necessarily a business term. It's just something people do. Life coaches, performance coaches, whatever. But in 1989, man? That was the stuff that cults were made of. When you had somebody interacting with you, behind the scenes, interpreting how you should view the world and providing some guidance toward more powerful ways to interact with other human beings? That was jacked up…
I used the F word a lot. Don't ever call and talk to me about that again. And I hung up the phone.